Currently:Graduate Student, Georgia Tech.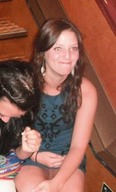 B.Sc., University of Minnesota, 2011
I am a recent graduate of the University of Minnesota with a Bachelor of Science in biology. My future plans are to pursue a PhD in microbiology and/or immunology. 

I have been working in the Dension and Travisano Labs for a little over a year now. For my directed research studies, I focused on aspects of aging in the multicellular yeast. Since then, I have begun an experiment mimicking the original selection experiment using yeast that flocculate.